Rails & Trolleys
Altrac is an adaptable, low-maintenance and safety-tested rail system that can be tailored to virtually any application.
Get a FREE Estimate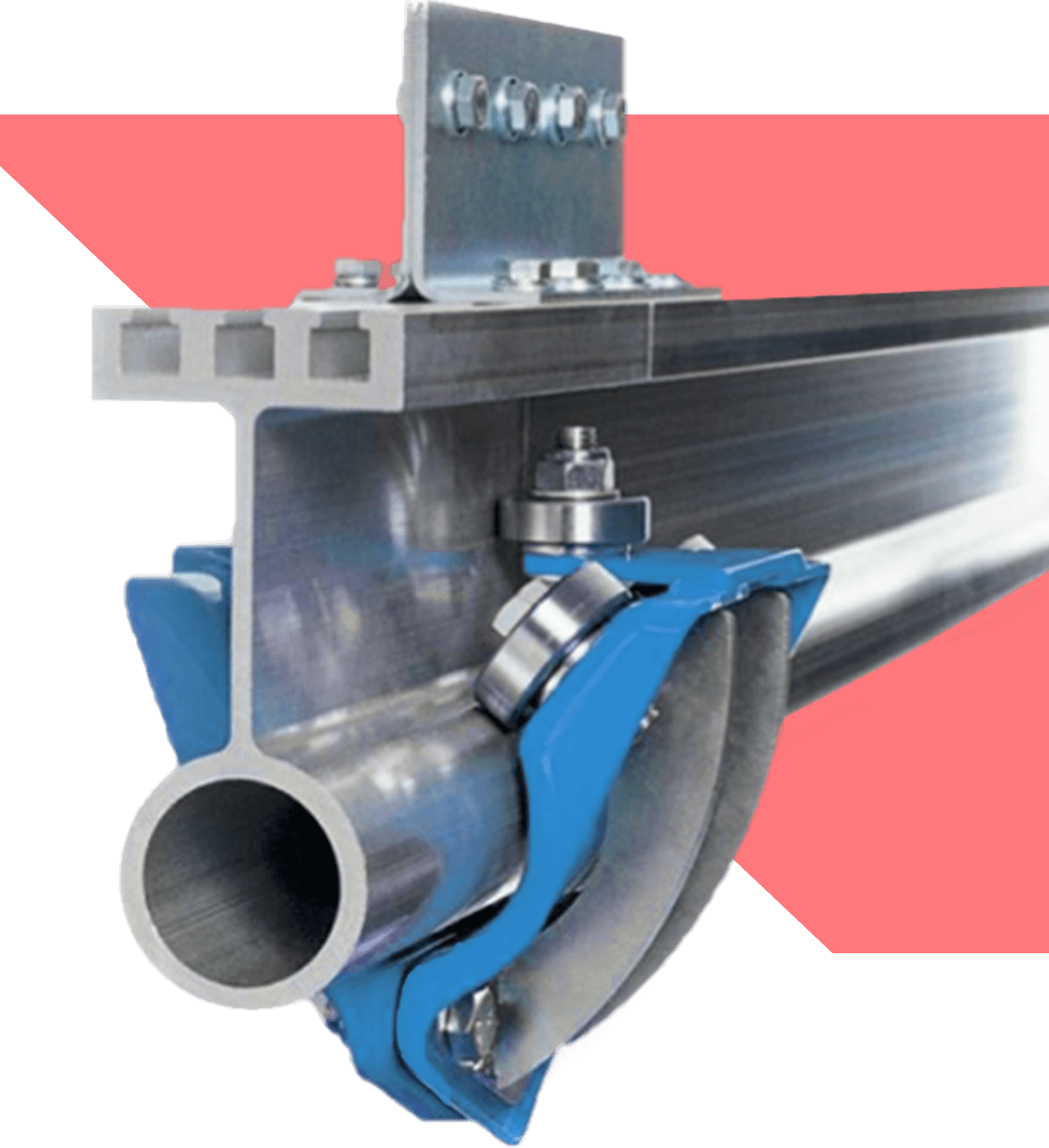 ---
Rail Features
Altrac's pipe trolley design is fundamentally different than competing rail systems.
Trolley wheels maintain consistent contact with the rail surface which results in smoother running and quieter operation than enclosed track and I-beam trolley rails.
Altrac is an inherently self-cleaning system that will not corrode, making it the lowest maintenance option. This adaptable, safety-tested rail system can be tailored to virtually any application.
Tensile strength tested to U.S. standards.
Easy to install. Less than 5lbs per ft.
Pre-engineered for modular assembly, Altrac has been designed for ease of installation as a bolt-together system.
With smooth lines, Altrac may be used in architectural design for building projects.
No flaking of material or paint.
No unsightly stain marks from rust or weathering.
The surface of the track does not become contaminated by the build up of dirt and dust - ideal for food, beverage, and pharmaceutical applications.
Track may be extended at a later date with the use of a Splice Kit.
Altrac may be supplied in one continuous length up to 39ft.*
No welding required at time of installation - preventing fire/safety hazards.
Time-saving installation and maintenance.
Only basic tools required - no welders or special widgets needed.
May be supplied in curved sections to suit application as a monorail or gantry crane.
Altrac USA is the exclusive North American supplier of Altrac Rail and Trolley System, which is owned and manufactured in Australia.
---
Trolley Features
Any maintenance is easily identifiable as trolleys run externally to Altrac and are not hidden by an enclosed track.
Less than 0.5% rolling resistance enables you to move the load without strain. Less effort is required than beam/enclosed track systems.
Should trolleys be required to be added or removed anywhere along the line, this can be achieved without removing existing trolleys - unlike an enclosed system.
The design of the trolleys means they will not twist or slew to cause jamming.
There are 45 plus trolleys available in varying formats.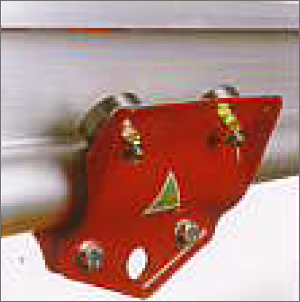 Model: TT01
Basic 4 Wheel unrated trolley. Note: not rated for hoisting applications - suitable for static loads only.
330lb Capacity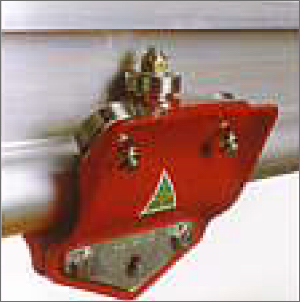 Model: TT05
Fitted with 4 load and 2 side guide wheels to accommodate side loading.
485lb SWL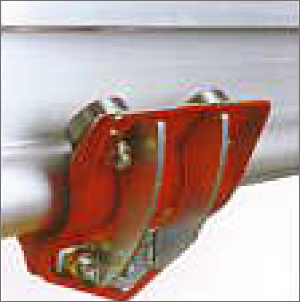 Model: TT07
Basic 4 Wheel rated trolley.
1,100lb SWL
---
Bracket Systems
The key to the Altrac System is the range of standard brackets and mountings, plus the provision of 'T'Slots in the extruded track section upper flange to allow the use of captive nut fasteners. The three slots give unlimited scope for positioning of suspension brackets and mounting locations. This also provides easy mounting of ancillary equipment such as collector rails, catenary systems, electrical equipment, air lines and fittings.
A full range of structural brackets is available to easily and safely install and support the complete system. All that is required is a single spanner and an electric drill. The system being lightweight and modular can be quickly and easily installed allowing for future modification, extension or relocation. All brackets and fixtures are zinc plated for corrosion resistance. Fasteners are grade B. Brackets and mountings are supplied complete with rivets (where necessary), bolts, nuts and washers.
Bracket Models
AT03 Single Bolt Hanger
550lb Max Capacity
Mounts parallel, at a 90-degree angle and a 45-degree angle for suspension and bracing.
AT02 Two Bolt Hanger
1,100lb Max Capacity
Mounts parallel and at a 90-degree angle for suspension and bracing.
AT11 Beam Clamp
1,100lb Max Capacity
For mounting Altrac at a 90-degree angle to universal beam sections.
AT01 Splice Kit
Step 01
Splice Plate and Splice Tube in place. Tube is riveted on underside of Altrac.
Step 02
Simple alignment of Altrac extension.
Step 03
Completed joint that is accurately aligned for smooth running.
---
Overhead Track Systems
Altrac can provide a full range of component assemblies to enable the design and installation of overhead track systems. These systems can range from single bypass or turn live loops to complex, multi-lane, high-density storage systems.
Used in conjunction with an array of standardized Trac Trolley Stops, Holdbacks, and Anti-runback devices, safe, efficient and cost-effective solutions can be engineered from this range of equipment.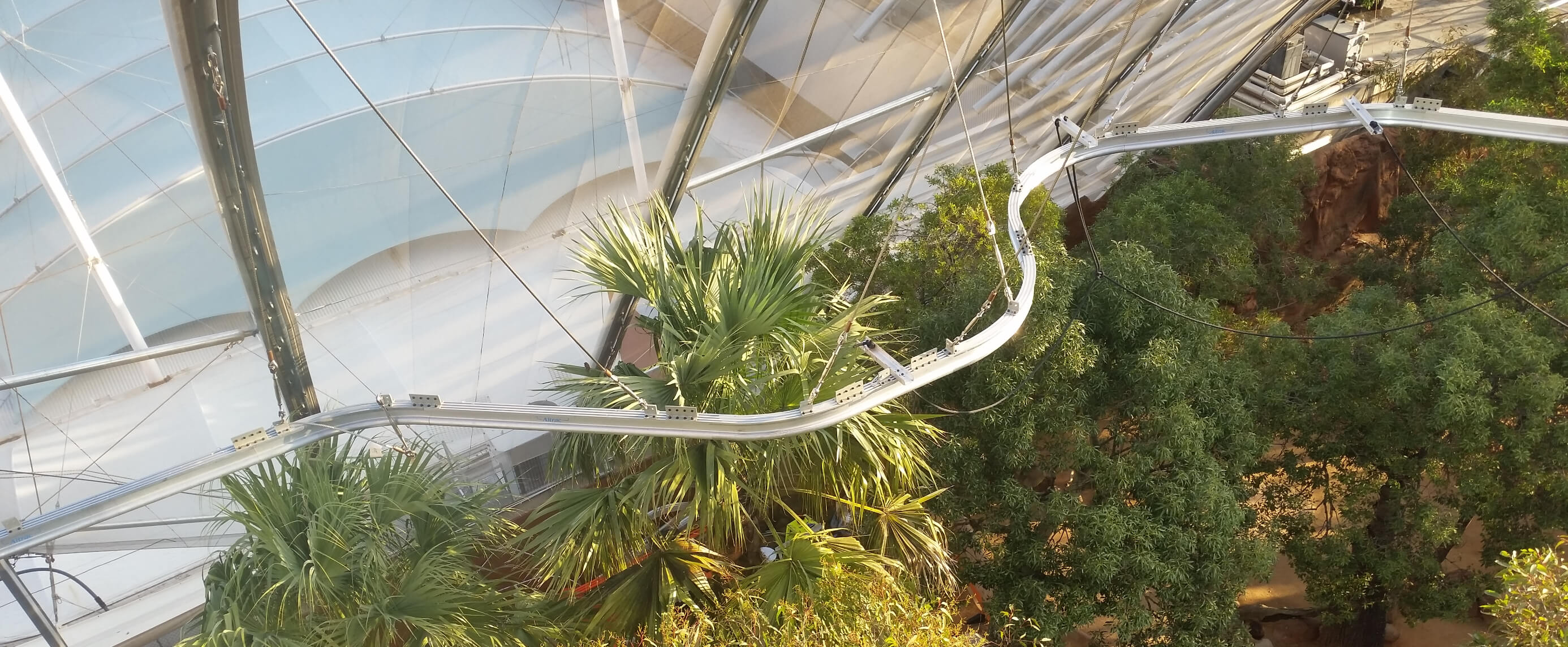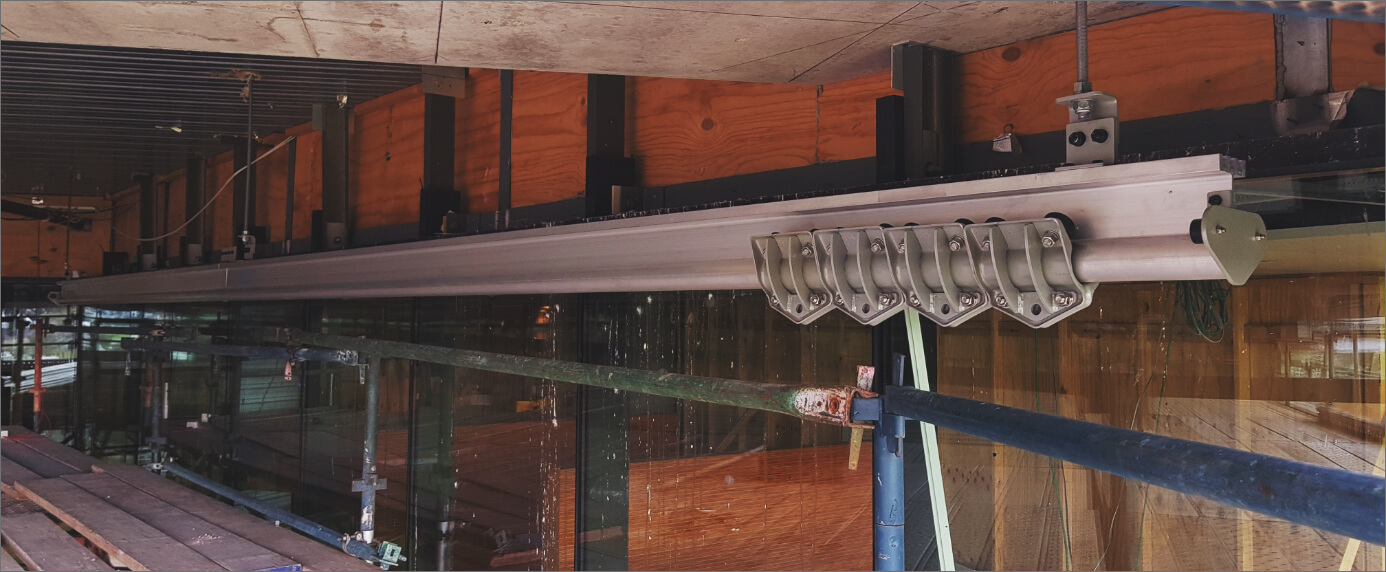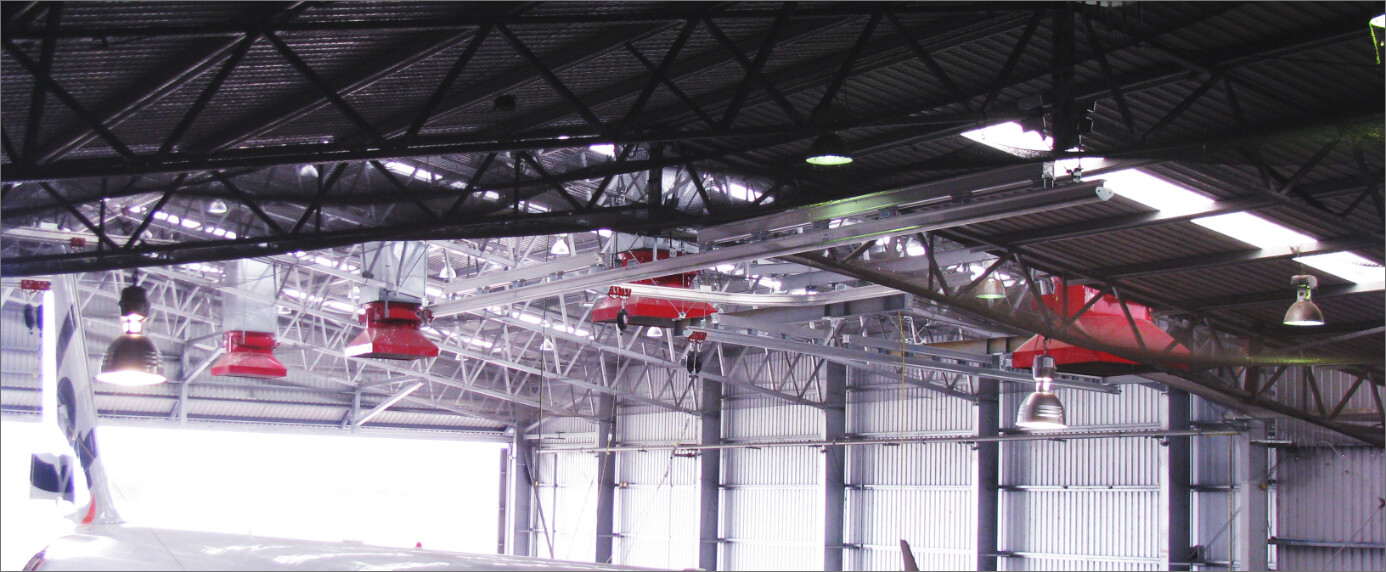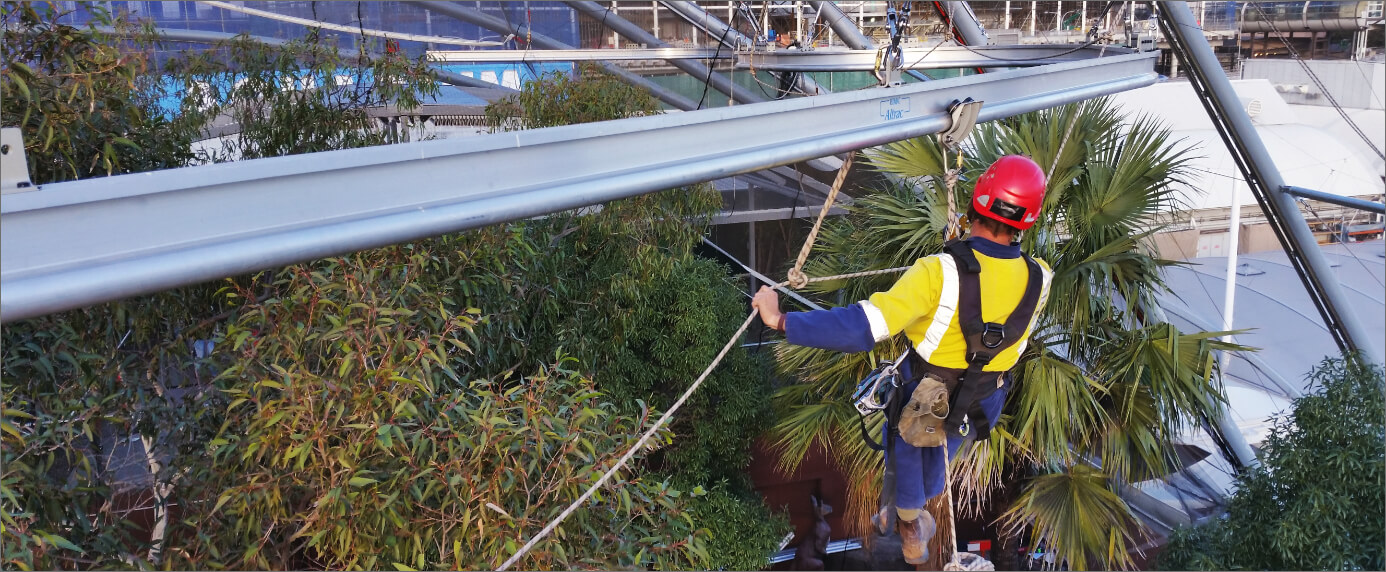 Altrac
is our flagship product which can be tailored to any project. The T slots along the top of the rail allow brackets to be easily attached and adjusted on the spot during installation. The track can also be easily extended with the extension kit.

StrongBac05
StrongBac in conjunction with Altrac makes for an even stronger system. The resulting increase in section properties allows systems to be upgraded from 275lbs to 2,200lbs and/or span capacities to be doubled.
Aluminium Alloy - 6005A-T5
Overall Height (Including Altrac): 145mm
Overall Width: 135mm
T Slot centres: 114 mm
Weight: 3.65lbs/ft

StrongBac50
Aluminium Alloy - 6005A-T5
Overall Height (Including Altrac): 190mm
Overall Width: 135mm
T Slot centres: 114 mm
Weight: 3.65lbs/ft

StrongBac80
Aluminium Alloy - 6005A-T5
Overall Height (Including Altrac): 220mm
Overall Width: 135mm
T Slot centres: 114 mm
Weight: 3.65lbs/ft